ULTRA XP1 Paint Spray Booth

Global Finishing Solutions is the world's leading manufacturer of paint booths, spray booths, and finishing systems for industrial coating and finishing, automotive body shops, aerospace finishing, and truck and large equipment finishing. GFS leads the way in spray booth innovation, and is dedicated to providing the most energy-efficient and ecologically-friendly paint environments.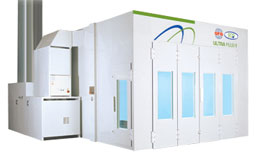 ULTRA XP1 Paint Spray Booth Features:
Downdraft airflow during spray and cure cycles
White pre-coated galvanized steeln
Dual-skin insulated panels with self-sealing construction
4-wing dual-skin insulated entry doors
Personnel door with observation window
AdvanceCure accelerated airflow system
Controlled Airflow (CAF) ceiling with integrated angled light fixtures
16 high-efficiency, 6-tube light fixtures
Floor track leveling feature (up to 1 5/8")
LOGIC control panel featuring economy mode, AdvanceCure, Pre-Flash and SmartCure
Code Compliant
ULTRA XP1 Paint Spray Premium Dual-Skin Booth


The best in class, GFS' Ultra XP1 paint booth sets the standard for auto refinish spray booths worldwide. Incorporated in this booth is virtually every feature that set GFS booths apart from the rest.
The Ultra XP1 booth includes premium lighting, airflow, ceiling design and construction, as well as 'eco' and waterborne friendly features. No other paint booth can match the Ultra XP1's levels of production capability, fuel and energy efficiency, contamination control, and ease of operation.


Ultra® XP1 Paint Booth Heater


GFS' top-of-the-line heat system, GUL2000 heat units comes fully upgraded, and standard with the Ultra® XP1 paint booth. Features such as exhaust-mounted VFD, direct-drive exhaust motor and direct-fired aluminum burner make this heat unit highly efficient.


LOGIC Touch-Screen Control Panel


The LOGIC 4 control panel is the most advanced and user-programmable spray booth control system on the market today. This innovative control panel allows you complete control over the booth, and the ability to easily switch from waterborne to solvent base.


VFDs


Two variable frequency drives (VFDs) accelerate airflow during flash-off cycles, provide energy-saving smooth motor starts, and facilitate the operation of the booth in 'economy mode'. Economy mode reduces energy and gas usage while the operator is not spraying, and switches back to regular operation when spraying resumes.


AdvanceCure Accelerated Airflow System


GFS Ultra® XP1 paint booths come standard with a fully integrated AdvanceCure Blade® System. Developed to help collision centers be more productive, efficient and profitable, GFS' AdvanceCure® Accelerated Airflow System drastically improves drying or curing times for waterborne and solvent-based coatings.