Global Finishing Solutions Automotive and Industrial Paint Spray Booths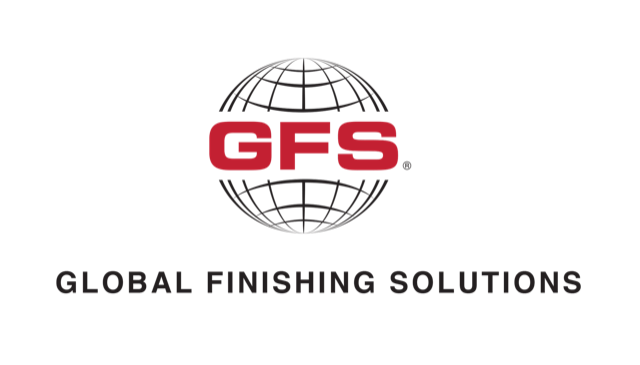 Global Finishing Solutions is the world's leading manufacturer of paint booths, spray booths, and finishing systems for industrial coating and finishing, automotive body shops, aerospace finishing, and truck and large equipment finishing. GFS leads the way in spray booth innovation, and is dedicated to providing the most energy-efficient and ecologically-friendly paint environments.
Global Finishing Solutions Automotive and Industrial Paint Spray Booths offers a complete product line unequaled by any other manufacturer in the finishing industry.
Find out more about Global Finishing Solutions on their blog or increase your knowledge at their training website Finishing Academy
Featured Automotive and Industrial Paint Spray Booths:
---
ULTRA XP1 Paint Spray Booth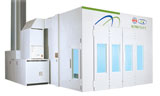 The best in class, GFS' ULTRA XP1 spray booth sets the standard for auto refinish spray booths worldwide. Incorporated in this booth is virtually every feature that set GFS booths apart from the rest. The ULTRA XP1 booth includes premium lighting, airflow, ceiling design and construction, as well as 'eco' and waterborne friendly features. No other spray booth can match the ULTRA XP1's levels of production capability, fuel and energy efficiency, contamination control, and ease of operation.
---
PERFORMER XP1 Paint Spray Booth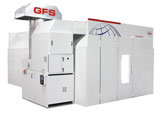 Dual-Skin Booth - The PERFORMER XP1 spray booth was designed and built with the value-minded shop owner in mind. Although it is an economically priced spray booth, it includes all of the key features that you expect to see in a top-of-the-line paint booth. The 27' long, dual-skin insulated booth is the perfect solution for small to medium sized body shops.
---
Prep Stations and Work Stations & CTOF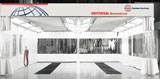 GFS Prep Stations, Workstations and CTOF Downdraft & Semi-Downdraft Universal Workstations make it possible for user to prep and perform minor paintwork in one area. These booths have the same features and options of the Ultra Prep Station and the added capability of a high-efficiency heat system.
---
AdvanceCure Accelerated Airflow Systems
AdvanceCure is the ultimate solution for accelerated drying of waterborne paints. By turning your booth into convection oven, AdvancedCure drastically reduces booth drying times and energy cost, and increasing productivity! Available with GFS booths or as as a retrofit upgrade for all types of existing booths.
---
Truck and Large Equipment Finishing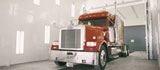 Truck and Large Equipment spray booths are designed, engineered and manufactured to meet the needs of the transit, recreation, agriculture, construction, large equipment, and trucking industry. They are also ideal for commercial vehicles.
---