Pro Spot Smart Welder i5
Pro Spot International, Inc. has announced the launch of its new i5 SMART spot welder. The i5 features a new medium frequency trans-gun capable of delivering over 13,000A with over 1,000 lbs (450dAN) of squeeze pressure. The i5 is designed to handle all new ultra high strength steels including Boron, etc. The operator can chose between two different modes AUTO and MANUAL for the two sided spot welding.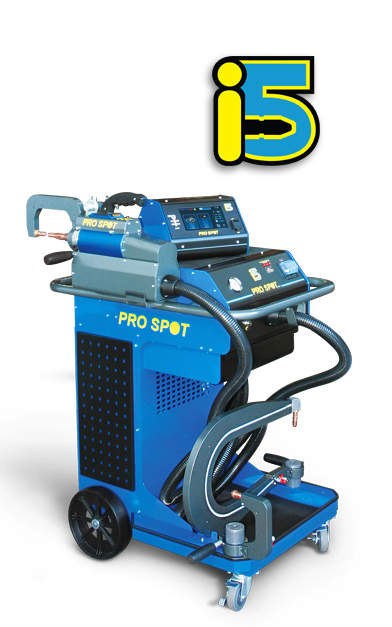 Pro Spot Smart Welder i5 Quick Features:
Auto Weld
Double-Acting Spot Gun
Water cooled Weld Arms
User Interface
Cabinet and Storage
Single-Sided Welding
Auto Weld
Based on the thickness and resistance feedback information the i5 automatically delivers the correct weld power every time regardless of type of metal, thickness or corrosion protection between the metals.


Double-Acting Spot Gun
Pro Spot's signature Spot Gun features double-acting cylinder, wide-spreading, self-aligning electrodes.


Water cooled Weld Arms
The i5 features a 5 gal. (20L) radiator looped cooling system all the way to the weld caps.


C to X Adapter
The X-type design is used on certain applications where the C-type can't reach.


User Interface
An all new interface that is intuitive and easy to read thanks to the high resolution full color display, and powered by software designed by professional programmers, engineers, and welders.


Cabinet and Storage
Designed with convenience and practicality in mind. A drawer under the front panel can be used to store smaller accessories. Under storage for the larger accessories such as weld arms and cable.


Single-Sided Welding
Quick change between 2-sided and 1-sided welding. Comes with several single sided programs.



Pro Spot Smart Welder i5 Full Features:
Auto Weld: The i5 delivers the correct weld current, weld time, and weld pressure every weld regardless of type of metal or thickness at the push of a button.

Double Acting Trans Gun: Unlike any other trans-gun on the market the i5 can spread the electrodes wide open with the push of a button without the operator ever having to remove his or her hands from their original positions.

Full Color Touch Screen Interface: High contrast full color touch screen display featuring over 3,000 OEM screens (with weld data and repair recommendations) from several manufactures.

Custom Water Cooled Weld Arms: The same versatility and ease of use that Pro Spot has made a standard in the industry, but with the added functionality of a 5 gal. (20L) radiator looped cooling system all the way to the weld caps.

Advanced Upgrade System: Upgrade your systems software via the same USB slot that you recieve log-in and weld history info. No flash cards required.

Overhead Boom and (optional) Tool Balancer

Hidden Tool Storage

Pro Spot Smart Welder i5 Technical Specifications


Input Voltage:

208 - 240V 50/60HZ
400 - 420V 50/60HZ
460 - 480V 50/60HZ

Welding Amperage:
14,000A max
Cable Length:

Input 30' (10m)
weld cable 16' (5m)

Electrode Pressure:
1050 lb (480 daN)
Liquid Cooling System:

Radiator / pump active loop
cooled to the weld caps.

Microprocessor:
Upgradable software platform
Protection:
IP 21
Patents (3):

no. 5,239,155
no. 6,706,990
no. 6,539,770

Weight:
314 lb (142 kg)
---
More Products by Pro Spot Welders