Pro Spot PHS-100 Battery Operated Welder
No 220V or 3-Phase required! Battery operated DC spot welding system. The Hybrid Spot Resistance Spot Welder is a great alternative spot welder where 3 phase power is not available or overloaded. The battery operated welder delivers high amperage DC weld current designed to produce powerful spot welds. No input power is required to operate the welder. The built in charging system is capable of charging all batteries at the same time - 110V or 220V charging voltage.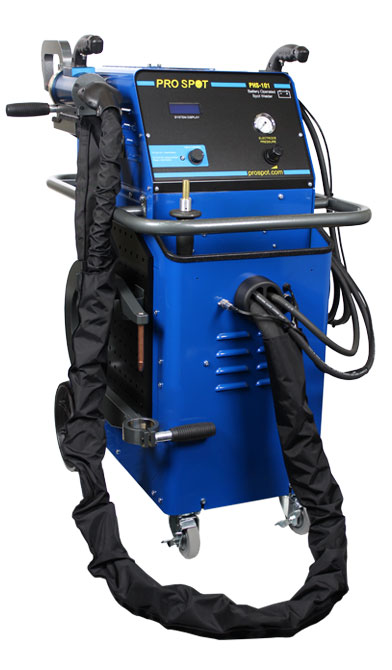 Pro Spot PHS-100 Battery Operated Welder Features:


4 cable system
Double-Acting Spot Gun
Two sided spot welding
Single sided welding
X-Gun adaptor



Battery Operated
The hybrid series welders are completely battery operated which means no special power installation is required, makeing them much more portable than traditional welders.


Double-Acting Gun
New innovative Spot Gun from Pro Spot features double-acting cylinder, wide-spreading electrodes, self-aligning electrodes.


Extension Arms
The Pro Spot Hybrid Battery Spot Welder comes with a variety of extension arms to accommodate any welding job situation.


Control Panel
The Hybrid Spot features a large control panel displaying current control, battery voltage, air pressure & more.


Single-Sided Welding
10 different Single-Sided welding applications give you the power and versatility to complete any job.



Pro Spot PHS-100 Battery Operated Welder Technical Specifications


Input Voltage:
Welding Amperage:
10,000A max
Cable Length:
8' (2.5m) standard
Electrode Pressure:

At 7 bar (90 PSI)-280 DaN (616 Lb)
At 8 bar (116 PSI)-320 DaN (720 Lb)

Cooling System:

Air (1 fan) Compressed air
(weld gun and weld cables)

Dimentions

33" x 23" x 50"
838mm x 584mm x 1092mm

Shipping Weight:
515 lb (234kg)
---
More Products by Pro Spot Welders